By Kathleen on Oct 20, 2016 in Networking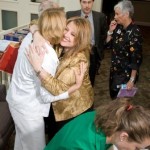 Networking has not only exploded all around the world but we are quickly moving at the speed of sound when it comes to social networking online!  According to recent article in (Reuters) – Social networking sites are the hottest attraction on the Internet, and highlighting a major change in how people communicate, according to a web guru.
Living in Atlanta it also seems we are in a "hot" bed of new networking groups, meet-ups and tweet-ups being offered up to us almost on a daily basis!  So with all these opportunities how do we choose or even know how to make an informed decision on what to do when it comes to promoting ourselves our ideas or marketing our business?   How many people can you meet in one day and in reality how do you convert all these people into real relationships?
Call me a bit old fashioned but I still believe with all these statistics and technology opportunities that surround us will never negate the fact that  we still crave connection and relationships with real people!  I believe in the local touch and global reach and that a healthy balance of business networking and social networking can add value to any business or personal dream  if you develop a good awareness of your relationship bank.
I decided to  examine what my own journey has led me to conclude about business networking and social networking!  What has meant the most to me in everything I have done and where do people fit into my own personal success?  There have been parents and relatives, friends and mentors, teachers and even those who are considered as sandpaper in my life!  There really hasn't been a time when my relationships with people didn't impact my life in some way.
With a strong and healthy relationship bank you can do anything in life.   You can create a new business, make a valuable connection for a friend or colleague and even bring important people together for an event to benefit a cause or community!   This is like earning your Masters in business networking.  This relationship bank makes us extremely valuable to others if we pay attention to our values and remain more interested in others success than our own!
In addition if you want to increase your personal value and the benefit of your relationship bank you will guard these relationships and treat them with respect!  You never take advantage of others or use them to a selfish purpose and you certainly never allow anyone access to these relationships for their own personal gain!
Begin looking at your own relationship bank more as your greatest asset and see where you can add value to them and grow them!  Make introductions between them and on their behalf.  I remain convinced that technology will never replace the need for that human touch or random act of kindness we all want and need to share.