By Kathleen on Jul 5, 2015 in Networking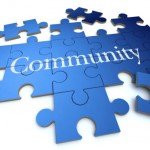 I was recently asked to sit on a panel with two other community builders and was so excited to hear their perspectives on how to add value to local communities and building stronger business networks. One of the ideas was so unique  I wondered what other ideas might bring a blend of business, family and community.
Glen Garnes with the Village Connector shared an example about  a community family gathering that brought business owners, families and community together for a  "Cashflow for Kids" game night at their local fire station.  They engaged some of the local retail business leaders to participate by purchasing the game for their table and sponsoring the event.  The parents and children discovered new ways to talk about money and parents learned how to give their children the financial head start necessary to thrive in today's fast paced and changing world.  The children also get to tour the fire station and gain more awareness of how their community works.  The business sponsor's gain more exposure for their business and begin to develop closer ties to their community and build value to the families lives. What a creative idea to blend business, community and family in a way that adds value to everyone!
Adding value and building a community requires much more than attending events or meeting people.  Creating community means sharing in each others success and making a contribution!  I hear people say many times that they never got anything from their participation in various organizations.   My question right back is what did you bring to that organization or group?  We can always add value to others with our knowledge, skills or talents.   What you know and the experiences that you have in your life are important and others can benefit from your wisdom and ideas.
When you are known as someone who joins people together and creates real value in others you will gain more customers and your business will flourish.  Be sure that you remain authentic in any of your efforts.   Blending your core values and business networking together with helping others can explode your ability to grow a strong relationship bank and you will grow a solid reputation within your community and soon your business will blossom beyond your wildest dreams.
What other ideas can you create to add value to your community while bringing people together?  Consider how your passion can align with an idea or a business project or community event?  Feel free to post your thoughts and ideas here.