By Kathleen on Nov 15, 2015 in Business Strategy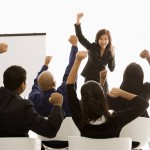 Finding the Passion in your Business
Starting a new business is one thing, keeping it running successfully is the key.  Do you remember the excitement and passion you had when you were first contemplating the idea of starting your own business?
You must have spent hours working, planning and doing the research. Perhaps you met with a business planner or a coach and undoubtedly you made numerous calls to different friends or relatives to ask for advice.  Do you recall that passion that first ignited your imagination and spirit?
You had the commitment, determination and the passion to make it happen. How long has it been since your started your business? Do you still have the same passion or zeal?  Are you feeling uninspired, drained with little or no energy to continue to work creatively or enthusiastically in your business?
Perhaps you are slowly but surely losing your passion and the big question in your mind is "how do I get my passion back"?  Or perhaps you aren't sure if you are following your true passion.
The following tips can help you re-ignite that passion and help you to keep your dream alive.
Commit to Passionate Living:
You have a choice each day to live passionately.  Commit to become a participant and not just an observer.  Commit to do whatever it takes to participate in the process of finding and following your passion and vision! Ask those around you what they think you are passionate about.
Study:
Immerse yourself in material related to your industry or profession. Read articles related to your business. Join clubs or associations in your community or related to your particular industry. Participate in its activities, either as an active member or as a volunteer.   Read great books that inspire, motivate and encourage you to grow.  I highly recommend reading the Tipping Point, by Malcolm  Gladwell and Shine by Larry Thompson.  The Go Giver, Bob Burg and John David Mann
Teaming with Passion:
A terrific way to insure your success is to find other business owners who are passionate about what they are doing and can support your vision.  They can inspire you, share ideas or brain storm with you. Identify other passionate people and spend time with them.  Find people who have the same target market but are a compliment to your industry or line of work.
Commit to the Process of Success:
As you work on your business, make a commitment to see yourself through every situation you encounter. Every journey in life has obstacles to be faced and overcome. There are periods when you will have high energy and other times when you not feel like getting out of bed in the morning. These are all part of the process of life and success. You must therefore commit yourself mentally, financially and emotionally to ensure that you keep your dream alive.
Vision – Do you have your personal vision written down?  Do you understand the difference between your personal vision and your business vision?  Have your written down your goals or objectives and shared them with your coach or those you are accountable to?  Today in fact NOW is a good time to begin!
Consider Hiring a Business Coach: A business coach will help to design a plan that is right for you and then be able to guide, direct and motivate you through the process.  They hold you accountable to your desired objectives and goals along with acting as a sounding board to provide fresh perspectives. Working with a personal or business coach is a terrific way to get your passion back and provide an excellent job in reconnecting you to your vision and purpose as they bring out your ability to achieve greatness.